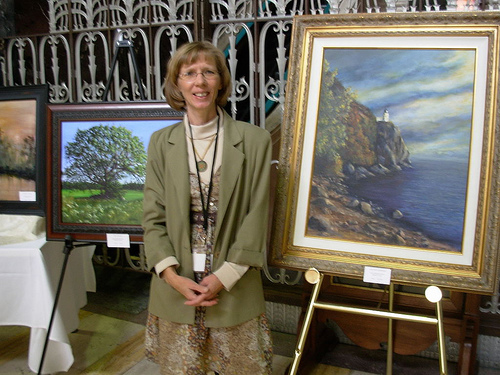 The Artistic Journey of
Elizabeth Crabtree
For each artist, inspiration and expression are personal and

unique, and for some, like myself, an evolutionary journey. After having experiencing many mediums and subjects, I have discovered that landscapes in acrylic are my true calling.
You will find my style to be impressionistic, with a strong realistic appearance - better to be viewed from a slight distance. Palette choices tend toward earth tones and much of my recent work includes water.
Much of my earlier work has had a watercolor finish – smooth, with little texture. Recently, I have been experimenting with techniques to create texture giving these paintings yet another layer of depth.
It will be interesting to see where this and future experiments lead.
Thank you for stopping by to share my artistic journey with me.
Elizabeth Crabtree
Music ~Writing ~ Art
I come from a long line of artist's in various forms, mostly musicians. All my siblings are songbirds; my brother and sister play instruments, as did my father. As children, my sisters and I sang three-part harmony at church, school functions and occasionally with my father's cw band. I also play several instruments including the clarinet (as a child), the guitar, the bass guitar, the drums and the piano.
But music is not the only creative thread running through my family.
My mother, sister and myself, are poets and creative writers.
Before the painting bug hit, I wrote 100s of short stories, having had some of those stories published.
The creative writing phase gently passed during the time when the dreams of trees began.
I began steering my pursuits toward creativity and art in the 1990s, taking several classes and workshops during that period including drawing, calligraphy and painting. In 1995 I received a degree in Drafting and Design.